Regenerative Orthopedics: Non-Surgical Repair With Stem Regeneration/PRP/Prolotherapy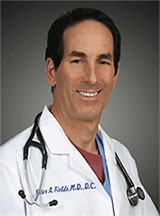 Dr. Fields lectured at A4M 23rd Annual World Congress in Las Vegas on
Saturday, December 12 at 3:30pm
Abstract
Surgery can always be done but never un-done.
Learn about the techniques of Regenerative Orthopedics (Stem Regeneration/PRP/Prolotherapy) which offers patients the chance to avoid unnecessary orthopedic surgery and let one's own body repair itself.
These techniques let the body stimulate a weakened area and cause it to regenerate.
If one is being told that only surgery will fix their ailing joints or spine, or are looking for an alternative to surgery, then this lecture is a must!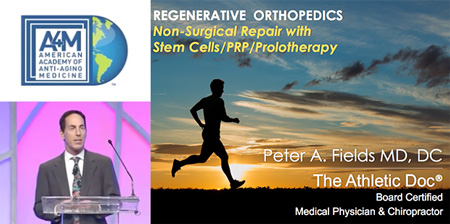 Regenerating ones joints and spine is not in the future: it is happening today!
Last year in the US there were over two million total joint replacements; and another 30 million joint surgeries. In increasing numbers, people are seeking non-surgical alternatives to joint and spine surgery. Cutting out a part of a joint or injecting it with steroids is not the answer.
In this lecture one will learn:
Why Regenerative Medicine is better than surgery
Learn the latest regenerative techniques in Orthopedics
How these techniques can help your patients live better lives
See and hear results from patients that have avoided surgery
http://www.a4mworldcongress.com/conference-agenda/