Articles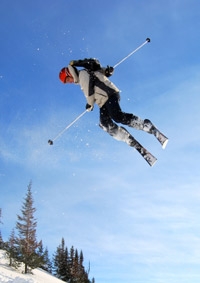 LA Times Article "A Ski Run for Border"
SESTRIERE, Italy — American skiers Bode Miller and Erik Schlopy, set to compete in Alpine events at the Turin Olympics, crossed into Mexico to receive alternative therapy for knee injuries. Miller reportedly was treated within the last year; it was not clear when Schlopy sought treatment. Miller, 28, and Schlopy, 33, as well as other athletes, visited the Ensenada clinic of Dr. Milne Ongley, a New Zealand-born orthopedist, to receive injections. None of the ingredients are included on the U.S. Anti-Doping Agency's banned list of substances, and neither skier has ever failed a drug test.
Miller, a two-time Olympic medalist, and Schlopy, the U.S. team's oldest skier, have credited Ongley with helping them rebound from knee injuries.Schlopy calls Ongley "the wonder doctor" and boasts ……of having "the youngest knees on the ski team." Schlopy, a bronze-medal winner at the 2003 World Championships, will ski in the giant slalom here. Miller will compete in all five Alpine disciplines.
The treatment promulgated by Ongley has is known by several names: reconstructive therapy, sclerotherapy, proliferative therapy or prolotherapy, the term preferred by most doctors, said Dr. Jeffrey Patterson, an osteopathic physician and professor in the department of Family Medicine at the University of Wisconsin School of Medicine.
Interest in prolotherapy is growing, said Patterson, part of a research team at Wisconsin that in 2004 received government funding to study the therapy."There are more patients receiving this and more doctors doing this, and they are finding it's valuable," he said. "It's a simple, elegant therapy that works."
The U.S. skiers who underwent prolotherapy probably had medically sound reasons for doing so, he said, adding that it was unfortunate they sought treatment in Mexico …when efforts are underway in the United States to study and legitimize the treatment.
To Learn More Contact Us Today! It's Free
Prolotherapy consists of a series of injections of a solution, usually a salt- or sugar-water solution, into painful or injured joints. The theory is that the solution will act as a natural irritant that can stimulate healing by prompting blood vessels to dilate and cells known as fibroblasts to converge on the damaged tissue. This process ….. can lead to the growth of new collagen and promote the formation of connective tissues.
Prolotherapy is most commonly used for back or knee pain and among people who have arthritis, bursitis, tendinitis and carpal tunnel syndrome.The therapy has drawn particular enthusiasm in the area of back pain, according to a report issued last fall by the National Institute of Arthritis and Musculoskeletal and Skin Diseases, a branch of the National Institutes of Health..
John DiFiori, team physician at UCLA and chief of UCLA's division of sports medicine, says prolotherapy has been around a long time and is gaining interest for conditions that are chronic or hard to treat.The appeal of the therapy is that it is non-invasive and can be tried before drugs or surgery, according to Maelu Fleck, executive director of the American Assn. of Orthopaedic Medicine (AAOM), a nonprofit group in Buena Vista, Colo.