In September of 2007, Dr. Fields completed his 7th half Ironman triathlon in Santa Cruz, CA. This was his second half Ironman this year having completed one in June in Ensenada, Mexico. He also participated in two half Ironman races each year in 2005 and in 2006.
A half Ironman Triathlon is a 1.2-mile swim, 56-mile bike and 13.1-mile run.
This distant race takes many hours a week of training. Swimming, biking and running must all be fit into each week of training in addition to daily stretching.
On most weekends, Dr Fields can be found on long training rides with the Los Angeles Triathlon Club. He is not only a member of the LA TRI Club but a sponsor too. Besides being outdoors and keeping himself very physically active, Dr Fields enjoys the camaraderie of his training partners.
In total Dr. Fields has done over 35 triathlons. Outside of the above distance the other races were Olympic distant races (0.9 mile swim, 26 mile bike, 6.2 mile run).
He says that even with all the years of racing and training, he still enjoys the physical and mental aspects of training.
To help him stay in top physical shape, he utilizes a daily vitamin and supplement regime as well as message therapy, chiropractic and of course, Prolotherapy for those injuries that just won't heal. In addition, he gets plenty of sleep, drinks lots of water and eats mostly organic, unprocessed foods to help him maintain optimal health.
His motto is not only train hard but smart – as if your body depended on it.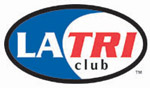 Sponsor of the Los Angeles Triclub