How To Avoid Joint Replacement Surgery With Stem Cell Treatments
Has your doctor told you that you have worn cartilage or no cartilage? That you have bone-on-bone in your joints? That you have arthritis? Or that you have torn or damaged tissue in your joints?
More to the point, has your doctor told you that you need to have your joint replaced?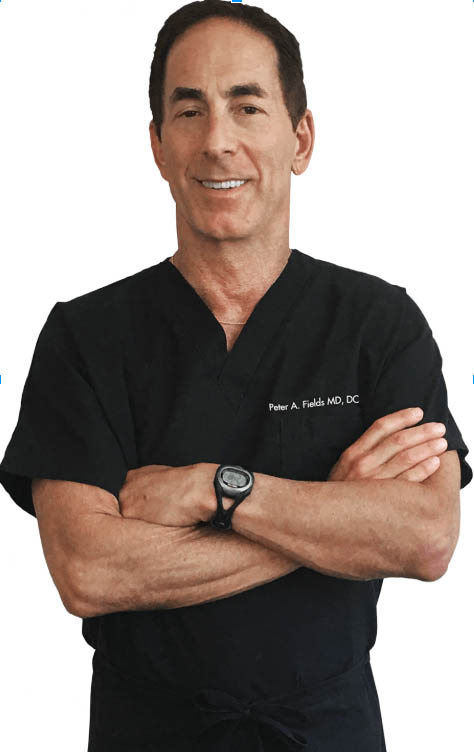 Every year, over 20 million people are told that the only solution to their joint pain — whether it's in their knee, hip, shoulder, or other joint — can only be treated with a total joint replacement.
And if you are like most people, you are scared at the idea of someone cutting out your joint and replacing it with an artificial one.
I would be, too.
My name is Dr. Peter Fields, and I am the leading expert in Regenerative Orthopedics and uniquely degreed as both an MD and a Doctor of Chiropractic.
And I'm here to tell you that in many cases, you do NOT need to have your joint replaced in order to be able to walk, run, lift, stand, sit, dance, raise your arms, play sports, or whatever it is that you currently cannot do.
My treatments have helped thousands of people resume their normal lives without joint replacement surgery, and there's a very good chance that I can do the same for you.
Call my office today at 310-453-1234
or fill out the contact form on this page and we will call you.
Why Avoid Joint Replacement Surgery?
The best reason for avoiding joint replacement surgery is that you probably don't need it in the first place. Arthritis.org reported that one third of total knee replacement surgeries were "inappropriate". And many other joint replacements were done when the damage was only "mild or moderate."
And if you do have a total knee replacement, hip replacement, shoulder replacement or some other major orthopedic surgery, you are going to end up with a minimum of three months to a full year trying to recover.
Plus you avoid any of the common complications of orthopedic surgery, including infection, bleeding into the joint, blood clots, complications from general anesthesia or implant failure.
Stem Cell Treatment Restores Movement Without Surgery
My Gold Standard Stem Cell treatments may help you avoid joint replacement surgery and all its complications. Plus, there is minimal recovery time because there is NO surgery, NO hospital, and NO general anesthesia.
The treatment is effective for patients diagnosed with arthritis, torn meniscus, labral tear, rotator cuff injury, torn or worn cartilage, and any other conditions which cause you to have a bone-on-bone condition or were told to have joint replacement surgery.
Watch any of the video testimonials on this page, just to see how thankful my patients are to avoid joint replacement surgery.
Schedule Your Consultation Today
Let's get you on the path to recovery without joint surgery. Contact my office today or call me at 310-453-1234 and set up a consultation to find out if you are a candidate for Stem Cell.
Jerry – Stem Cell Knee – NEW!
Jerry tore his meniscus a second time. Doctor prescribed a knee replacement, but after Stem Cell treatment is now playing softball again!
Jeff – Stem Cell Shoulder
Had "tremendous" shoulder pain. Couldn't sleep, sit up, lay on his side. His surgeon said "Just live with it!" So he traveled from his New Mexico home to see Dr. Peter Fields. See how he is now!
Priscilla – Stem Cell Knee – NEW!
Prescilla, a Torn Meniscus and Arthritis patient, was told she had to have knee replacement surgery. She couldn't stand for any length of time. Now she can walk, skip, and ride a bike! Listen to her story.
Robert C. – Stem Cell Knee
Used to be very active but now couldn't walk. Now he is active again: already walking, surfing, and soon will be skiing again!
Mary – Stem Cell Hip
Couldn't sleep or walk. Was told she needed hip replacement surgery. She saw Dr. Fields and can now walk and do ballet!
Will Stem Cell Treatments Work For You?
Find out if you're a candidate for Stem Cell Treatments so that you can avoid joint replacement surgery. Schedule your consultation by calling our office now a 310-453-1234 or fill out this form.
[contact-form-7 id="1696″ title="Consulation form"]