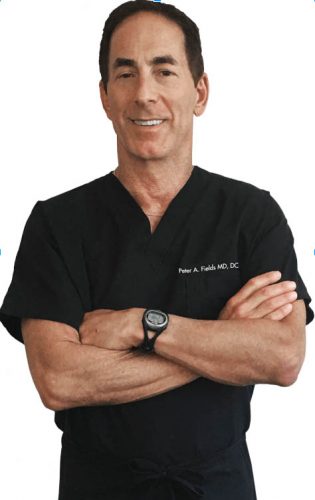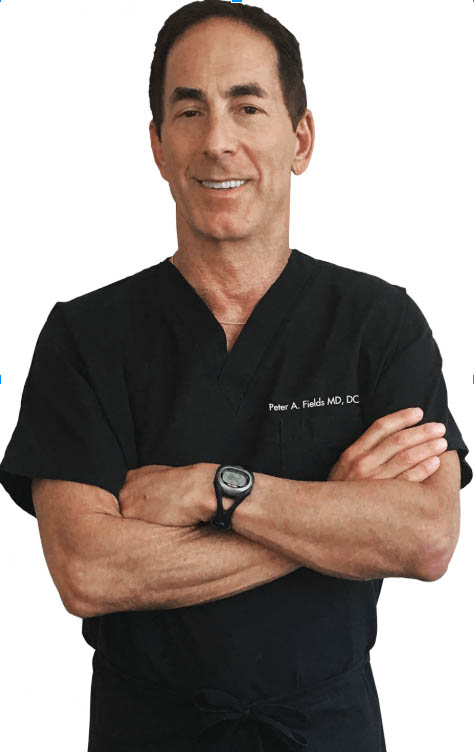 PRP Doctor
Peter A. Fields, MD DC, is a PRP Doctor in the Los Angeles area and the founder of OrthoRegen®. PRP stands for Platelet Rich Plasma and Dr. Fields is a leading expert in using PRP to resolve painful joint conditions and sports injuries to help people avoid joint replacement. People come from all over the US and even the world because Dr. Fields helps them to avoid unnecessary surgeries.
What is a PRP Doctor?
A PRP doctor provides regenerative orthopedics, which means that non-surgical alternative therapies that regenerate the joint and spine are offered. PRP doctors like Dr. Fields use Platelet Rich Plasma Injections (and other regenerative treatments) that help accelerate the normal healing process. And Dr.Fields is passionate about helping his clients eliminate pain for optimal long-term results, with the use of PRP Regenerative Treatments.
What Does PRP Los Angeles Stand For?
PRP stands for Platelet Rich Plasma.  And OrthoRegen® is located near Los Angeles. The Plasma portion in the name Platelet Rich Plasma refers to the fluid portion of blood which contains cellular components such as platelets, white blood cells, and red cells. Plus, the Harvest method that Dr. Fields uses concentrates the platelets 7-10 times of what is generally found in the blood. Other systems concentrate them, but to a lesser extent.
What is PRP Treatment?
PRP treatment, as used in Regenerative Orthopedics, is a non-surgical healing treatment for healing soft tissue performed by a PRP Doctor. And Dr. Fields makes precise injections of your own concentrated blood (PRP) into the affected areas to promote healing of musculoskeletal problems. Not only that, but blood platelets also contain potent growth factors necessary to get your tissue repair active and boost regeneration at the injury site.
Schedule Your Appointment Today!
Is PRP Treatment Safe?
PRP treatment is an extremely safe procedure. Plus, the risks are far less than those associated with surgery for your chronic joint pain or acute joint injuries. Also, the risks are often less than taking Ibuprofen (Motrin) for a lifetime to temporarily alleviate chronic pain. As with any procedure, there are risks and side effects which will vary depending on the area being treated. But Dr. Fields will discuss these possibilities thoroughly with patients during the pre-treatment consultation.
What Does a PRP Doctor Treat?
Weakened torn or damaged ligaments, tendons, muscle tears, menisci or labrums are the most common soft tissue structures that Dr. Fields treats. And PRP has been effective in treating arthritis too. However, when arthritis is more severe, Dr. Fields and his team have fount that Stem Cell Therapy provides better results.
Dr. Fields has had great success in treating chronic pain and sports injuries and just some of them include:
Knee Injuries: ACL, MCL LCL, Meniscus, Arthritis, Kneecap Instability
Elbow Injuries: Tennis Elbow, Medial Epicondylitis, Tendonitis
Shoulder Injuries: Rotator Cuff Tears, Labrum Tears, Tendonitis
Back Injuries: Arthritis, Facet Joints, Sacro-Iliac dysfunction
Hip Injuries: Tendonitis, Bursitis, Labrum
Foot/Ankle Injuries: Ankle Sprains, Arthritis, Achilles Dysfunction, Tendonitis
Hand/Wrist/ Injuries: Finger/Joint Tendonitis, Ligament Tears, Arthritis, Carpal Tunnel
Are You A Candidate for PRP Treatment?
Do you have a sports injury or a painful joint? Don't put up with it any longer. Call 310-453-1234 today for a free phone consultation with our Regenerative Orthopedic and PRP Los Angeles Doctor to see if PRP can get you pain-free and 'back in the game'. And we would be more than happy to help you get back to the activities you love and to resume your normal lifestyle. Contact Dr. Fields' office to set up an in-person consultation.