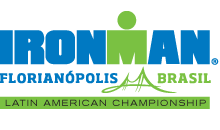 Sunday May 31, 2015
2.4 mile swim, 112 mile bike, 26.2 mile run
GETTING THERE
It is a 12 hour flight nonstop from Los Angeles to Sao Paulo. The flight left at 6:30 p.m. and went smoothly allowing me to get a good nights sleep. It is a four hour difference between Los Angeles and Brazil. After arriving at 11 a.m. in the morning, I waited about six hours and was able to connect on my 5 p.m. flight to Florianopolis.
The next four days were the usual getting settled in and resting. In addition I would meet many of the competitors that are staying at the guest hotel. The Saturday before the race one must get all ones gear together and leave it down at the transition area. In an Ironman triathlon, all your gear, including your bike, has to be in the transition area on the Saturday before the race. I also took a van tour of the bike course so I could become familiar with it. Sunday morning the only thing one brings down to the start are the things that you're going to swim with including your wetsuit. You are also allowed to bring down 2 bags with special needs for half way on the bike and half way through the run. Here you put any food or other gear that you might want during the race and they are placed at the appropriate half way marks.
RACE DAY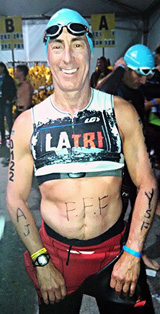 I woke at my usual time of 3:30 a.m. This allows me plenty of time to have breakfast, stretch out and get all the final gear in place. And I then arrived at the transition area about 4:30 a.m. At this point it's just about keeping one's nerves down, getting your tires pumped on your bike and making all final checks of your gear for the day. Then we headed down to the ocean. It was about a 10 to 15 minute walk down to the starting point on the beach. The swim was in the ocean (Atlantic that is!). Everybody is trying to just keep their nerves down. Before heading down, I had someone take a picture of me. On my right arm I put the initials of my beloved mother, Yvette Simon Fields, who passed away last August. On my left arm I had the initials of my 89 year old uncle, Andre Jamar, who lives in Belgium and had just spent 30 days in the hospital and had recovered successfully. And on my stomach I had the initials of my dear father, Fred F. Fields, who I lost 11 years ago. All three of them would be in my heart during the race. This was very inspiring and encouraging for me.
THE SWIM: 2.4 Miles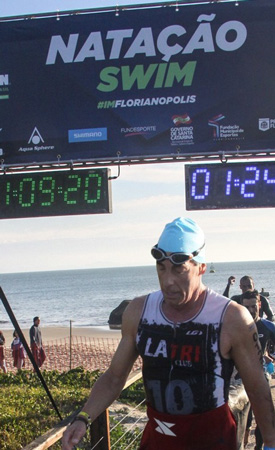 This was a beach start. All 2,000 athletes started at once (approximately 40 pros go off first). Being a very good swimmer, I get right behind the lead pack and go out strong. Even with that, there is always a surge at the beginning with everyone swimming into each other (like salmon spawning up stream!). After several hundred yards, the pack thinned out and I was able to get into my rhythm. I was wearing a wetsuit which irritated my neck and I had to stop several times to readjust it so I would not get a burn mark. In spite of this, I was feeling very good. It was a two loop swim. The first loop was a little longer than the second loop. After the first loop you exited the water, ran about 30 to 40 yards on the sand through the cheering crowds and were handed water by the race volunteers. Although a bit exhausting to run, I found this very encouraging with the crowd yelling and screaming. Then it was back in the water to do a second shorter loop. All along I felt very good. I exited the water and found out later I was only nine seconds behind the leader in my age group. So much for stretching my neck! I was feeling very good. You had to run about 300 to 400 yards to the transition area to get your bike. Right before you got to this area, they had wetsuit strippers there. These are basically volunteers to help you to get off your wetsuit. You peel it down to your waist and when you get there you lay on your back and they just pull it off your legs. This is very helpful as this is a hard part of the transition trying to get the wetsuit off. Then it was off to the change tent to put on my bike shoes, helmet and get going on the bike.
THE BIKE: 112 Miles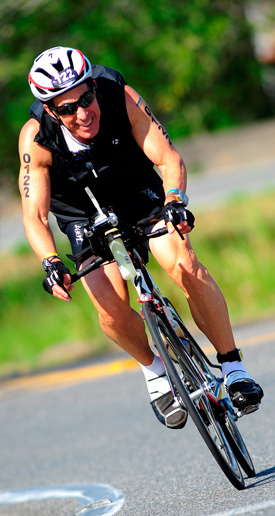 Since it was in the low sixties and I was still wet, I wore a vest and arm warmers ( I get cold easy) as I exited the bike transition area. I later would get rid of all this gear as it went into the upper 60's and mid 70's. The area right around this transition area, known as T1, is crowded with people yelling and cheering. This is always very encouraging. Then it was on to do the bike ride, which would be two loops of the course. This event turned out to be more of an urban event than the other Ironman Triathlons I had done. That meant we were riding amongst traffic a lot. We did have one lane blocked off just for us but a lot of the time there were cars going by. There was also a total of about four thousand four hundred feet of climbing. But the hills were pretty evenly spread out, so nothing was all at once. Plus we did have some very nice views of the ocean and bays as Florianopolis is an island. I felt very strong on the bike. At one point one of my age group competitors who had seen me in the transition area came up to me on the bike and asked me if I was going to go to Hawaii (the World Championships, where you have to qualify). I laughed and said no, but thanks for the encouragement (going to Hawaii meant that I would finish in the top one or two in my age group which I certainly do not do). Nonetheless, it was very encouraging to hear this as he thought I was biking very well. After the first loop, you ended up back in town with the crowds cheering and yelling. Then it was back out for the second loop. Again, I was feeling very strong. I did stop at special needs to pick up my water bottle with my energy drink in it and some other food. All along I felt very strong and was racing well. I found out later that when I got off the bike I was in 7th place in my age group. This is a big improvement for me as usually the bike is my weakest link and I fall back many places. Then it was into the change tent to change into my running shoes. This time I did not need sunglasses as it had partially clouded over and the sun was not brightly shining. Since it was around 3pm and the sun would set around 5:30pm (it is almost wintertime in the southern hemisphere), this was helpful as after that time you have to put the sunglasses on your hat or somewhere else as you don't need them because it gets dark outside. This was also very good as that would mean it would not get too hot and one would not get sunburned.
THE RUN: 26.2 Miles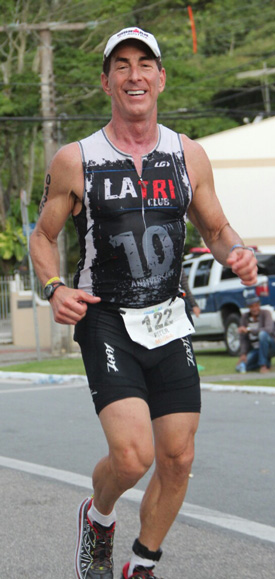 As we started to run out of the transition area, there were lots of crowds. They would eventually dissipate and you would just be running with the other triathletes. After only a mile, my feet started to bother me. I had to stop and readjust my shoes several times. I even put on little toe gel caps that help protect your toes. After several miles I knew that this was going to be a tough day as somehow I was having pains in my feet which I had never experienced before. At about mile two and a half miles, there was an extremely steep hill that most people had to walk up. On the way back this hill was so steep that you also had to walk down. It was not that long, so it wasn't that bad. The first loop was out and back. It was 6.5 mile each way, so when done this is the first 13 miles. I tried to put the pain in my feet out of my mind and keep going. It was slowing me down, but I just kept moving forward. I also kept smiling as all-in-all I was just happy to be out there competing. Plus smiling makes me feel good on the inside. In the next few miles, I had to stop several more times to readjust my shoes. By the end of the first loop, I knew this was not going to be an easy day. For the next 10 kilometers (6.2 miles), I pushed myself very hard to stay in the game. I thought of my mother, my father and my uncle whose names I had written on my body. They've all had tough struggles in their lives and just kept going, so I did too. Their strength kept me going through this very tough time. Of course now it was after 6:30pm and it was dark. I had now completed 13 miles and knew and if I could just get past the next 6.2 mile (10 kilometer) segment, I would be able to finish the race. I pushed hard and kept my focus. After getting thru this segment, I knew I was good to go and had only one more loop to the finish line.
I had to walk and run at times due to the pain I was having in my feet, but you just put it out of your mind and keep going. Finally, as I rounded the corner and could see the finish line, I knew I had done it. This was my 5th Ironman and probably the toughest one, at least on the run. Ironman races are all about staying in the game and I had conquered this one. As I crossed the finish line and they said:
"Peter Fields, you are an Ironman",
I knew it was all worthwhile.
FINAL THOUGHTS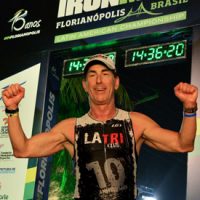 My race may have been slowed down by the problems I had on the run, but I was never discouraged. As my former coach told me, Ironman races are all about damage control. That thought helped me get through this race. I was very pleased that I did not get the two most common problems that affect athletes in an Ironman: stomach problems and/or mechanical problems on the bike.
I felt exhausted and drained but nevertheless very satisfied to have finished my 5th Ironman. Some may ask why I punish my body? I was not punishing it; just challenging it. When one is prepared, it is not a punishment. Plus an Ironman is as much a mental challenge as a physical one.
I leave you with a quote by the author Viktor Frankl, MD, holocaust survivor and world famous author from his book Man's Search For Meaning, which was my dad's favorite:
"Life can be pulled by goals just as surely as it can be pushed by drives."
There are too many to name, but I want to thank everybody out there who followed me during this race and offered me encouragement. I'd also like to thank everyone else who has written to me and even just thought about me before, during and/or after the race.
This race was dedicated to my mother who I lost last year, to my father who I lost 11 years ago and to my uncle who, at 89yo, survived a very tough time recently being in the hospital for 30 days. All three of them have meant a lot to me during my life and have encouraged me to never give up.
Lastly, a big shout out to my brother Norman. No matter where I have raced, he has always followed me the entire race on the computer. I heard him cheering me on the whole way; he has never forgotten his little brother.
Thanks bro!
Peter A. Fields, MD DC
The Athletic Doc® and 5X Ironman Triathlete