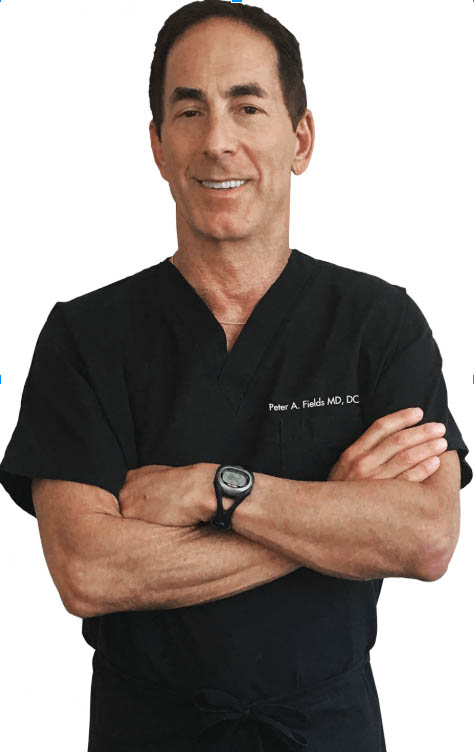 Stem Cell Doctor
Peter A. Fields, MD DC, is Stem Cell Doctor in Los Angeles and the founder of OrthoRegen®. Dr. Fields is a leading expert in using Stem Cell Treatments for joints and Spine Regeneration. Dr. Fields help people avoid unnecessary orthopaedic surgeries whether full surgery or arthroscopic procedure. Dr.Fields is passionate about helping his clients eliminate pain for optimal long-term results, with the use of Stem Cell Regenerative Treatments.
What is a Stem Cell Doctor?
A Stem Cell Doctor provides regenerative orthopaedics by offering non-surgical alternatives to joint and spine repair. Dr. Fields uses Stem Cell therapy to regenerate body tissue. Regenerative medicine is growing in popularity in the medical world as an alternative to invasive orthopaedic surgeries including joint replacement. The remarkable thing about Stem Cells is that when you inject them into a specific area of the body, they know what kinds of cells your body needs – for example, cartilage cells or meniscus cells.
What Conditions Can a Stem Cell Doctor Help?
Dr. Fields treats weakened, torn or damaged ligaments, as well as tendons, torn cartilage, muscle tears, menisci or labrums. Stem Cell treatment has also been effective in treating severe arthritis conditions.
Dr. Fields has had great success in treating joint conditions with Stem Cell Therapy including:
Bone-on-Bone
Severe Arthritis
Degenerated Joint
Torn, Worn or Missing Cartilage
See more about Stem Cell Treatment.
Schedule Your Appointment Today!
What is Stem Cell Treatment?
Stem Cell treatment is an injection of stem cells into the joint or affected area to promote healing. This procedure is usually used for cases where you have been told to have their joint replaced, have bone-on-bone, advanced arthritis, severe meniscus or labral tear or other aggressive injuries.
Dr. Fields Stem Cell technique one of the four Gold Standards Regenerative Orthopedics procedures to help you avoid invasive surgery.
Stem Cell Treatment, as used in regenerative orthopaedics, is a non-surgical healing treatment for healing soft tissue performed by a Stem Cell Doctor. Stem Cell treatment is the transplantation of autologous culture-expanded bone marrow mesenchymal stem cells in platelet rich-fibrin glue.
Is Stem Cell Treatment Safe?
Stem Cell treatment is an extremely safe procedure. The risks are far less than those associated with surgery for your chronic joint pain or acute joint injuries. The risks are often also less than taking Ibuprofen (Motrin) for a lifetime to temporarily alleviate chronic pain. As with any procedure, there are risks and side effects which will vary depending on the area being treated. The Stem Cell Doctor will discuss these possibilities fully with patients during the pre-treatment consultation. This is only recommended after a very thorough history and physical exam.
Are You A Candidate for Stem Cell Treatment?
If you've been told that you need to have joint replacement surgery — whether that's shoulder replacement surgery, hip replacement surgery, knee replacement surgery (or any other joint), or if you've been told that you need to have spine surgery due to bone-on-bone, arthritis or other conditions, you owe it to yourself to examine all other alternatives to surgery before going under the knife.
Spine Surgery and Joint Replacement Surgery are very invasive procedures, and each comes with its own long list of reasons to avoid it at all costs: hospital stays, long recovery times, potential (dangerous) complications, and the need to have the procedure redone at some point.
Make an appointment with our Stem Cell Doctor for an evaluation to see if you are a good candidate for Dr. Fields Gold Standard Stem Cell Treatment for – Spine and Joints. Call 310-453-1234
to Schedule Your Appointment Today!