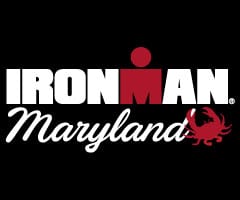 Saturday, September 29, 2018
2.4-mile swim, 112-mile bike, 26.2-mile run
"Never lose sight of your goals"-Yvette and Fred Fields
Here's the story of my 10th Ironman:
I originally scheduled this to take place at Ironman Hamburg, Germany, on June 30, 2018.
Hamburg is special for me as I lived there for 9 months many years ago. And both my parents were born in Germany.
Unfortunately, it was not meant to be.
Due to the extreme heat in Europe this summer, they canceled the swim three days before the event due to the high algae count in the lake.
Upon returning to the states I had to reevaluate. If one does 12 Ironman races and at least one in each year, you can get a special lottery entry into the world championships in Kona, Hawaii. My count now still stood at 9. If I didn't do one this year my total would go back to zero. I looked at my options and the best one was Ironman Maryland at the end of September. Since it was less than two months away, I just had to maintain my fitness level with moderate workouts.
Getting There:
The flight to Maryland was a lot easier than it was to Hamburg. It was in Cambridge, Maryland, which is the outer banks of Maryland. Cross-country flight to Philadelphia and a short flight to a small airport near Cambridge. After checking in at the hotel,  I looked over the course and got ready for race day. The swim took place in a river that fed from the ocean. The day of the race the weather was very good.
Ironman Maryland-The Swim 2.4 miles: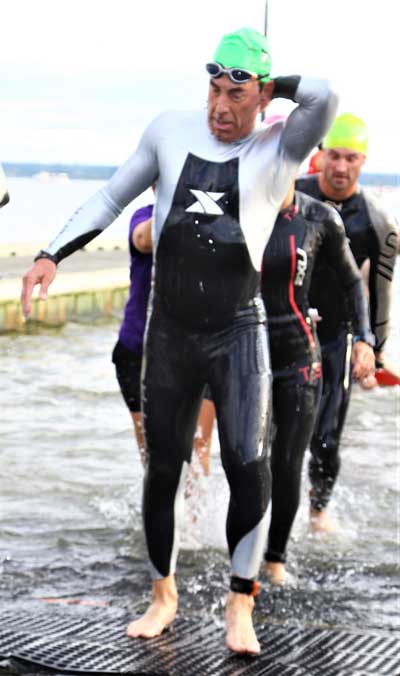 Ironman Maryland is notorious for rainy weather but race day was clear and without clouds. My swim went well. The water was wetsuit legal which meant the water was below 76.2 degrees. At 74 degrees, it was warm but I left my wetsuit on as did most of the other athletes. Because I'm a strong swimmer, it's easy for me to overheat in a wetsuit. I had learned in practice, just two days before, to pull the zipper down on the back of my wetsuit to let a little bit of water in to cool me down.
Plus, twice during the race I lifted the front of my wetsuit off my chest and let water in. This was enough to cool me down. All in all, I felt very good in the swim. As I exited the water after 2.4 miles, I was aware of the problems I had on the bike so was very cautious and prepared with my nutrition intake.
The Bike 112 miles: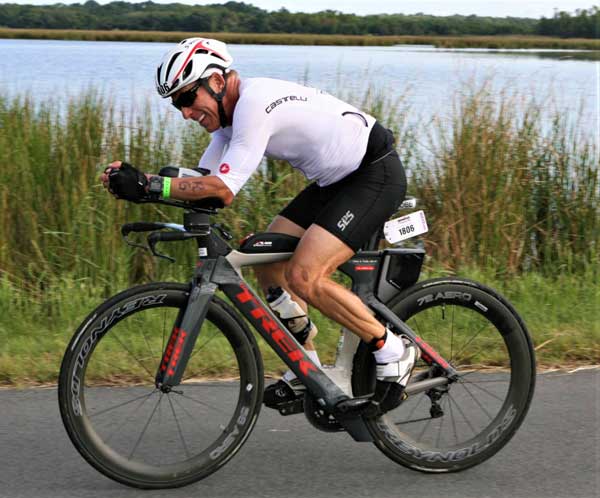 There was some wind on the bike which picked up after 40 miles. But somehow, I felt strong. I was biking faster than I had ever biked before. Halfway through I was under 3 hours. My normal time for 56 miles is 3:10 or more.
I kept pushing ahead without exerting myself too much to save myself for the run.
And I did not have any stomach problems!
I got off the bike at 6 hours and 6 minutes which was 24 minutes faster than I had ever done a bike ride in an Ironman. I was exceptionally pleased. I even commented to the people in the transition why were there so many transition bags in the area and they all said those people haven't finished. This surprised even me as I am usually a lot slower and there are usually less bags there.  Everything was going as planned.
The Run 26.2 miles: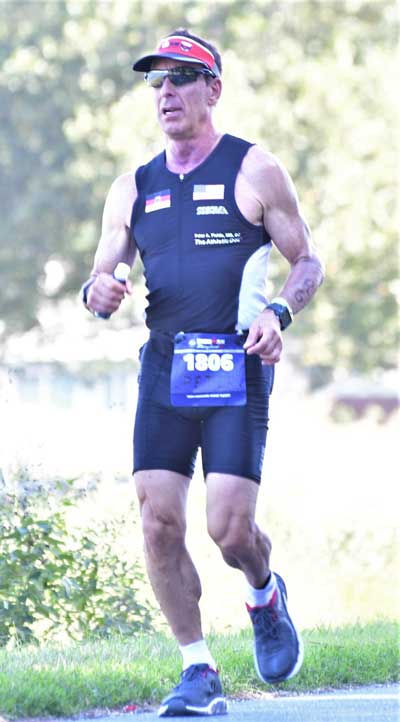 As I exited the transition area to start my marathon run, I felt very good and strong. The first 5 or 6 miles went well. Unfortunately, then I started to have some foot problems. Ironman races are all about crisis control. So, I knew not to lose my cool and just keep going.
Foot problems turned out to be my Achilles heel for this race.
So, I ran and walked for a while. Around mile 13 I had some stomach problems which made me sit down for a bit, but I battled through that.
Unfortunately, foot problems persisted, which slowed me down and even made me fast walk at least 8 of the last 12 miles. But either way, after what had happened in Hamburg, I was determined not to let anything stop me from completing the race. I just stayed focused even as the sun went down and I started to get cold since I was not running as much.
One of the houses I passed by had a few people outside cheering, so I asked if they had an extra t-shirt. One guy there went inside and brought back his volunteer shirt (he had volunteered earlier in the race) and just told me to turn it inside out, so people did not think I was a volunteer. I thanked him profusely. This helped a lot and kept me going without getting cold.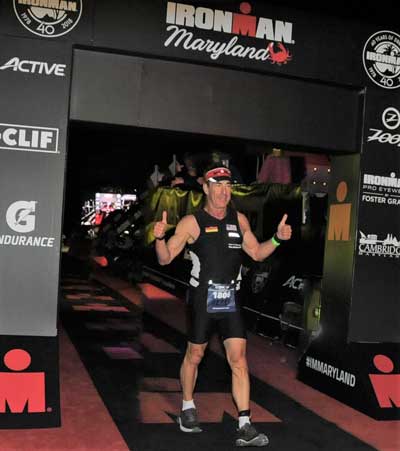 So, as I turned the last corner and headed to last 500 yards I knew I had made it. Even with my foot problems and some stomach problems I was able to keep my head in the game and not lose concentration. There is a saying that in an Ironman the run is 90% mental and the rest is in your head! Hahaha.
And as I entered the finish chute and crossed the finish line, for the tenth time I heard the announcer say:
Peter Fields, "You are an Ironman!"

All my aches and pains just faded away.
Ironman Maryland Postscript:
As with every race, my parents' spirit was with me the whole way. What they went through to survive the fascism of World War II in their countries and resettle in this country was nothing compared to what I had to do for this one day. The fortitude and determination that they gave me kept me going the whole way. I am eternally grateful to have had them as my parents.
A very dear friend of mine is going through a severe illness right now. I do not wish to put his name out in a mass email to allow him some privacy. I wrote his initials on my forearms so that I could think of him when racing. It's a tough time he's going through. Never letting anything stand in his way. Smiling every day and keeping a positive attitude no matter how he is feeling.  He is the true Ironman. When things got bad during my run I looked at my forearms and thought of him with his will and perseverance no matter how bad things get. This helped me get through my day. I dedicated this race in his honor.
I want to again thank everybody who thought of me during the race or who offered me congratulations on
finishing my 10th Ironman.
And of course, everyone who took the time to read this.
Peter A. Fields, MD, DC
The Athletic Doc® and 10X Ironman Triathlete