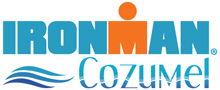 November 27, 2011
2.4 mile swim, 112 mile bike, 26.2 mile run
On November 27, 2011, after 27 years of competing in triathlons, I became an Ironman.
In Cozumel, Mexico at 9:04:07 pm to be exact.
14 hrs, 4 mins and 7 sec earlier, at 7am, I began what was to be an epic day in my life. 2.4 mile swim, 112 mile bike, 26.2 mile run. A physical and mental challenge like no other. And although I had trained countless hours to get my body physically prepared, the day was all about staying mentally focused If your mind got the better of you, the day would be over.
My day began at 4am, when I awoke to have breakfast. After getting to the transition area and re-checking my bike several times, I was ready to go. I then went down to the beach to begin the race with over 2300 swimmers (1700+ men and almost 600 women) from over 34 countries.
It was a beautiful day; air temp about 80 degrees, clear skies and not a cloud in sight. Now, after all the months of training, my epic journey was about to begin.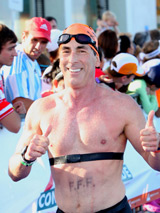 THE SWIM
After the starting gun went off, it was one big mad dash to the first turn. Fortunately, I am a strong swimmer, so I was towards the front of the pack. Nonetheless, there were arms, legs and bodies all around you. Sometimes even on top of you! It was a beautiful 2.4 mile swim in the 82 degree, crystal clear ocean water of the Yucatan Peninsula. You could see the bottom, which was over 30 feet down. Plus you could see lots of fish of all sizes and even the scuba divers (they were there "just in case"). Time went by quickly and one hour and one minute later, I was climbing the stairs out of the water.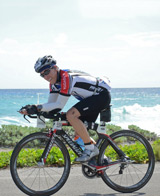 THE BIKE
Then off to the transition (change tent) to get into bike clothing and hop on my bike for a 112 mile ride. It was three times around the Island. And although there weren't any hills, the back side of the island gets wind, so about 60 miles of the ride was into the wind. The air temp was now about 85 -87 degrees with no clouds in sight. You could see huge waves breaking (since we were right next to the beach), so we had a nice view. But the onshore winds never let up. At times we had to lean into the wind to keep upright. As I passed through town, twice on the bike and again twice on the run, I had my cheering squad there. Their passion and enthusiasm kept me going the whole race – big time.
Halfway through the bike I got my special needs bag from the volunteers, where I was able to reload with my own food (water I got from the aid stations). Here I was able to alleviate a potential major problem; about half an hour earlier, I had developed severe pain in my left foot. When I got off the bike I removed the left shoe support wedge (I have one in each shoe), which made the pain bearable. Fortunately I did not have any mechanical problems on the bike and best of all, no flats! When I was on the last nine miles, the skies darkened and then opened up with a torrential rain. It rained so hard, it was difficult to see the end of the bike (my bike shoes took two and a half days to dry out). After making it to the transition area and handing off my bike, it was into the change tent to put on running shoes and start the marathon.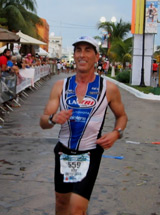 THE RUN
When one leaves the tent, you cannot think marathon, since with over eight hours of working out, that would be too much to comprehend. No, instead, you focus on just going for a run. The foot pain that I had on the bike disappeared as soon as I started to run. There where puddles everywhere (it was still raining lightly) and my feet did get a bit wet. Then about three miles into the run there was a street crossing with the water about knee high. So at that point the puddles did not matter anymore and my socks and shoes were just soaked. I did develop a blister on my left foot under the shoe tongue, but did not let it bother me – at least until the race was over.
I just kept telling myself to keep running. I only walked through the aid stations for a quick sip of water or coke, to bite an orange (the gels I carried with me), or to get some ice to put under my hat or down my shirt. My mantra – just keep running; do not walk. It was a three lap run, so it was out and back 6 times. Tedious, but every time we would come back through town, the crowds where going wild along a two mile stretch (along with my cheering squad!).
With each lap, it became more of a mental game to staying "in it". The third and final lap was the toughest mentally as well as physically; not only because of over 12 + hrs of working out, but it was dark out and still at least 82-84 degrees. It was "Just Do It!" time. So I just kept focusing on the next mile. And once I hit the final turnaround (only 4.4 miles to go), I knew that I had it.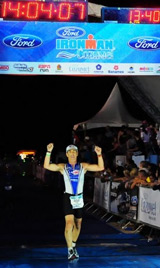 THE FINISH
As I entered the final 50 meters leading to the finish line, a big smile came across my face. At this point I finally knew that I had accomplished what I had set out to do many months ago. I felt wonderful; no pain or exhaustion – only euphoria.
As my coach told me, race day is all about crisis control. So when I crossed the finish line, after 27 years in the sport, the announcer said what I had not heard before: "Peter Fields, you are an Ironman!"
After a moment or two of realization of what I had just accomplished it was time for food, water, and a post-race massage
Peter A. Fields, MD DC
The Athletic Doc® and Ironman Finisher