Sunday June 29, 2014
2.4 mile swim, 112 mile bike, 26.2 mile run
My time was 13:32:36. A new PR for me.
For the details, please read the story below.
Thank you
GETTING THERE
It started with a 12 hour flight from Los Angeles to Frankfurt going via Dallas. There was 3 hour delay in Dallas so it took even longer. I thought that I had missed my train connection in Frankfurt. Fortunately I got through customs very quickly. 35 minutes from arriving at the game, I was not only able to get through customs but pick up my bags, take a bus to the train station, then re-book my ticket and make my train with 5 minutes to spare! Of course being able to speak German helped out a lot with getting directions. Then a 3 hour train ride to Munich where I switched trains and then a four hour train ride to Klagenfurt, Austria. The views from the train in southern Germany and Austria were spectacular.
The next days were just getting settled in. Usually I'm a very good sleeper but unfortunately, for about 4 days, I was unable to sleep a lot at night. I tried to make up with this naps during the day. Sunday would come all too quickly.
The rest of the pre-event days were spent meeting everybody, seeing the triathlon expo and having a chance to swim in the lake and then take a van ride around part of the biking course. When my bike did arrive (I had it shipped), I rode it for about 20 miles and then had the mechanic adjust it slightly. The rest of the time was spent trying to stay calm and relaxed while not working out a lot.
Saturday we checked in at the race which included leaving your bike and all your gear. The race number paper for my bike did not fit properly and I was advised not to tamper with it and ask an official when I went to check in my bike. When I got out of the van at the check in point I realized that I have left the number back in the hotel. In German I asked one of the check in officials what he could do about it. He said he could not do anything and that I would have to go to the registration area to have a thing done. Not an easy thing to do as it was one a mile away and I had all my gear with me in bags, so walking the bike would not be an easy thing. So I opted to go back to the van and have them take me back and get the number. As I was walking away one of the spectators came up to me and said in German that someone wants to talk to you back from where I came. I looked back and saw someone standing there who had a race official badge around his neck. So I walked back (not an easy thing to do with several thousand people there) and asked him in German if he could do anything about this. He said no problem he could help me. I was surprised as the first guy had said no. I asked again if he was sure about this since my van ride was about to leave. He turned over his badge which and it said race director. He said "I'm the boss and I can do it for you". And within minutes everything was taken care of. He told me he travels to the states sometimes so I gave my card told him to look me up. He said he would.
All's well that ends well. Plus a good omen for the race.
RACE DAY
I got up at my usual time of 3:30 am. Breakfast is at four am and we leave for the race at 4:45am. It was about 58 degrees (heading into the 70's) and very clear and no signs of rain. It has rained the last 2 days on and off so this was a good thing. Got to the transition area and prepped my bike for the last time. This is always a very exciting time with 3000 athletes plus spectators trying to stay calm. Since it was about a 500 meter walk to the water, we all took our wetsuits and changed over by the lake.
At the lake we were greeted by a rainbow over the lake. It was very beautiful and again a good omen. In a short time, we were already go. The pros and another group of 800 people started 15 minutes early. These early starting non-pros for had signed up to start early. I missed this sign up and at first I was disappointed as I am a very strong swimmer. But Ken Glah, the former pro triathlete whose company I travel with, found out it was a good thing as I would be the fastest in the next group of 2200 athletes and not all bunched up with the fast group (it gets very jammed up at the beginning of the swim).
So after many months of training, I was ready to start my fourth Ironman. I was dedicating this race to two people.
On my left arm I had head initials JP written. This was in memory of my friend Jeff Patterson. Dr Jeff started me off in the wonderful world Prolotherapy which helped save my back from surgery. He was my mentor and dear friend and died much too early only a few months ago at the age of 67.
On my right arm I had the initials FFF, for my father Fred F. Fields. Simply put, he was everything in the world to me. He would have been so proud of me, as he always was. It was with great honor and pride that I am able to call myself his son. He died almost 10 years ago and there is not one day that goes by that I do not think of him.
THE SWIM
Even with 800 starting early, there still was 2200 starting in this pack. Since there were definitely going to be some really fast swimmers in this group, I decided to stay behind the first group of people and go off a bit slower. The strategy worked to my advantage as I was able to answer save a little energy at the beginning. Once I got out about 400 or 500 meters I was able to get into my stride and swim well. It did get a little crowded but I was able to stay with the pack. This is good as when we turned back towards shore, we entered a canal that is about 1000 meters long. I had been warned that it can be extremely crowded in the canal and one can't really move at all. But due to the fact that I was with first group of only about 150 people there was plenty of room. In triathlons one lifts their head every four or five strokes to sight the land and make sure you are going straight (unlike in a pool, there are no black lines on the bottom of the lake!!). When I picked up my head, I could see the sides of the canal where there were probably over 1000 people lining the canal yelling and cheering. This really was a unique experience as normally one can see or hear nothing
When I got about 100 meters towards the end it got a little jammed up and I was not really able to move ahead quickly or left or right. You just had to stay with the pack. Either way, I excited the water at a little over one hour and six minutes, which turned out to be first place in my age group (a first for me). And there were no wetsuit strippers (volunteers who strip your wetsuit off you when you lay down on your back). So we just pulled the wetsuit off our shoulders and ran about 500 meters to transition one (T1), where we had to pull the rest of our wetsuits off (not an easy thing) and get ready for biking.
THE BIKE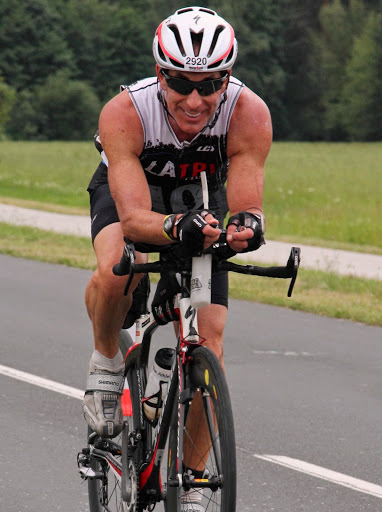 As one exits the T1 area, there were over a thousand people cheering us on. We rode down a street for about 300 meters and made a U-turn back so the street was heavily lined with spectators. It was a beautiful day, sunny and probably about mid to upper sixty's with no clouds in sight. As usual I did not eat anything after the swim for about 15 minutes to allow the blood to get into my legs. At the beginning this route is mostly flat with lots of curves going around the lake. As we left lake we went into the small town where there was a traffic circle and after that is where we started our first big hill climb. At the traffic circle there was one of the race announcers announcing the race and cheering us on along with the spectators. And in all the small towns there were lots of people standing on the streets watching and cheering. As we started the steepest part of this climb, the street was lined with people probably 5 or6 deep on either side cheering and screaming to encourage us to get up the hill. This part was a big loop so we did not come back the same way. Going back was long downhill, so we went fast except for the towns where we had to make small turns which meant we had to slow down. All along here we had spectacular views of the mountains. At mile 45 or 46 miles, we started the biggest climb up the Ruperberg mountain. As we approached this mountain climb, we made a sharp left in town and started going up. There were 100's of people lining the street and cheering us on along with a big loud speaker with a dj playing music. It was not too long but very steep. And again at the top were a lot of people and another dj play playing music over really big loud speakers. Then it was mostly downhill back to town to start a second loop. As I came down the hill, I saw a large bee coming right at me. This happens quite often on the bike. I felt it hit my right shoulder and bounce. I suddenly felt a sharp sting in my left thigh this was under my bike shorts. I rolled back my bike shorts and there was a big red welt. It hurt but there was nothing I could do about. I just blocked it out of my mind. The pain subsided after about 15 or 20 minutes and I just went on with the race.
As we came into town they had us make a180 degree turn again (like at the beginning) so we hat to really slow down But this was good thing as the street leading to this turn was lined with thousands of spectators cheering us on. Occasionally at this point and other ones where there was an announcer I would hear "and here is Peter from the United States". Always nice to hear to keep one going. My usual time is about 3hrs 25 mins for half of the ride but this time I did it in 3 hours 10 mins. I was feeling very good.
As we started back out on the second loop, I stopped at special needs and refueled myself. Special needs is where one can leave a bag that morning of anything they may want or need at that point. It is at the halfway point of the bike and another one at the halfway point of the run. I tossed my fuel bottle out and took a new one from the bag I had left. I also resupplied myself with my gels and other nutrition. I carry my own nutrition so as not to try anything new on race day. When I tossed the bottle away, it rolled to the feet of the small boy about 6 or 7 years old. His mom looked at him. He just looked at it. I told him, in German, here's a present for you. Take it home and clean it! It is yours. He just smiled at me as he reached for it.
Then 8 miles into the second loop miles drizzle started that got a bit heavier with time. Now the streets were wet and there were puddles. This meant we all had to slow down.
All in all, it went well on the second loop. The crowds were less due to the rain but there were, still crowds out there. At about mile 80 my stomach had a little bit of trouble. Nothing big, just that I could not eat for about 20 or 30 minutes. But I got over it without any problems.
My second loop time was a bit slower due to the rain.
It was 3 hours in 25 minutes. All in all I felt strong for the run. This was a good thing.
In town near T2, the crowds were there cheering loudly.
Got off my bike in and ran thru the transition area to rack my bike. It was good to be off the bike after 112 miles. Got my running shoes on and started off to run a marathon.
PS several places on the bike course (and later on the run course) there were people from Endurance Sports Travel. This is the group I went with. They were cheering me on loudly. This was much appreciated.
THE RUN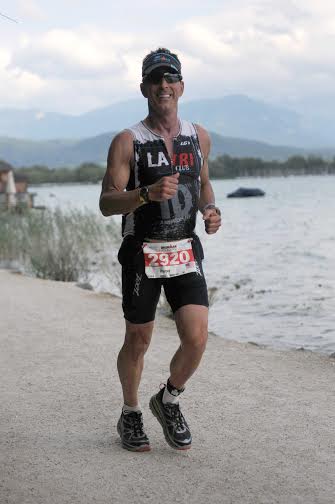 When one leaves transition area two (T2) in an Ironman, you cannot think marathon. You just say are running from here to there and play this mental games with yourself the whole way. It was warm and sunny and about 75 degrees but not too hot. Plus there was tree cover on at least 60% of the run course. The run was a double loop. It was actually a figure 8 that we had to do twice. So therefore I would pass the finish line 4 times. In this area were thousands of people yelling and screaming. After a mile or two, I started to feel a bit tired in my legs. So I just told myself I would run to the end the first turn around about 4.5 miles out. I had my Garmin (GPS) on so I was able to see my pace and keep it where I knew I could maintain it. We ran along the lake the beginning of each loop, so although brief, it was a nice view. After only 2.5 miles, I came upon a woman that was having trouble running so I ran for a little bit with her to keep her going. At 4.5 miles we turned around and headed back to town. Now I felt strong again and my legs were loosening up. In training I had problems with my foot and also slightly with my hamstring (the hamstring had been my Achilles heel in the last two races). I trained part of the time in the water for my run (deep water running). This was very helpful as it took the stress of these two areas. At this point everything was good and I had no pain. As we passed through the finish line area (middle of the figure eight), we headed out again along a canal. Then we ran under a small foot bridge and onto a small (in width) cobblestone street lined with houses. We ran along this for about 3/4 of a mile then into the town square. People were sitting in cafes and cheering us on. Lots and lots of people. It was about 6 or 7 o'clock at night and since the sun stays up until about 9 o'clock the cafes are very, very crowded. We continued on into the town square where there was a large TV screen where people were watching football (soccer). Here we turned to begin the last part of the figure eight and run back to the starting area. I got back to starting point again and got my special needs bag – some extra nutrition. On the second loop my stomach started to feel little funny. This is something that is very common with Ironman triathletes. Mine only lasted about again 15 or 20 minutes. Many runners were walking due to this or muscle cramps, dehydration or other things. I felt fairly lucky. I would cheer these fellow athlete on when I went past them and told them to just keep going. Everyone appreciates that. I had been in their situation in the past and know what it feels like when someone gives you a shout of support.
I just kept telling myself to keep going. One foot after another…just keep going… Part of the way it was shady so that helped a lot too. The sun stays up until 9 o'clock so it never went down while I was running. Mile 18, I got a second wind. Felt very upbeat and in a good place so I was able to pick up pace.
At that point I started to run alongside someone a little bit faster than me. After only two miles, I could not keep up with him and told him so. He told me that you normally he runs a lot faster but not today. He told me to try to stay with him and we could talk so the time with go faster. So for the rest of the marathon (about 6 miles), we ran together. We ran back along the canal and into the city square again where there still lots of people. His pace was definitely faster than I would have gone but he was pushing me thru all the aches and pains one has after racing for over 13 hours. There was a small archway as one entered into the city square. There was a small bell on a string that it was hanging from. If you rung the bell (by tapping it with your hand) they would donate money to charity, so I rang it every time I passed it. At the final turn around, it was very exciting knowing that I only had 3 miles left. I had never developed any pain from my foot or my hamstring. And I was very pleased with my run. The guy I was running with and I just kept talking. He was from Prague where I was going after the race so we were going to exchange numbers after we finished. So as we got near the finish line area, the noise of the crowd got louder and louder. Since they take your picture as you cross the finish line, he said I should go ahead of him to be alone. I thanked him very much for helping me along.
So at about 100 meters away, I took off from him. The crowd was very loud; almost deafening. There was a cheerleading squad there along with photographers and a local TV crew. As one comes with closer to the finish line, the noise level is incredible with cheering, cowbells and more. I then heard the announcer say:
"Peter Fields, you are an Ironman!"
The feeling one has when you hear that never gets old.
I was exhausted but very elated. The feeling I had is indescribable.
And at 13 hrs. 32 minutes and 36 seconds I had a new personal best for me by 18 minutes
My friend I met on the run the finished right behind me. I then met his wife and three kids.
After a few minutes of walking around it was off to the massage tent and get some food.
PS I finished around 8:30 pm. At 9 pm the sky opened up and it rained hard for about an hour.
I was very fortunate not to go through that.
I want to make everybody who took the time and effort to watch the update that were on the internet during the race. I appreciate every one of you. And for everyone else, your thoughts and cheers before and after the race were heard. There are lots and lots of people I need to thank but the list is too long. You know who you are and a big thank you goes out to all.
Collectively, I want to thank massage therapist, my acupuncturist and my chiropractor. You all helped get me through. And wonderful office staff who always took a great interest in what I was doing and put up with my long workouts that made me late sometimes.
There a few individuals that need to be singled out individually.
I want to thank my coach, Cherie Gruenfeld, as she pushed me hard and helped me a lot.
And then there is the world's best podiatrist, Dr Dan Altchuler. Without his help and caring, my foot would have never made it through the race.
I want to thank my very special friend Angela Past. Several years ago she got me into this wonderful world of Ironman triathlons (she became an Ironman before I did). She actually got up in the middle of the night in California to follow me as the race began at 10pm west coast time. Wow! Thank you so much for your emotional support when I needed it the most.
And last but not least, I want to thank my mom and dad as they taught me not to give up even when the times get tough. And although my dad is no longer with us, his thoughts are with me in spirit every day. My mom is 88 years young and is active and vibrant. She's an inspiration to me every day. She has never lost faith in me and my abilities… Thank you mom!
Thank you all again for your well wishes and support.
Peter A. Fields, MD DC
The Athletic Doc® and 4X Ironman Triathlete