Dr. Fields will Lecture in Mexico City on July 9th about Stem Cells/PRP/Prolotherapy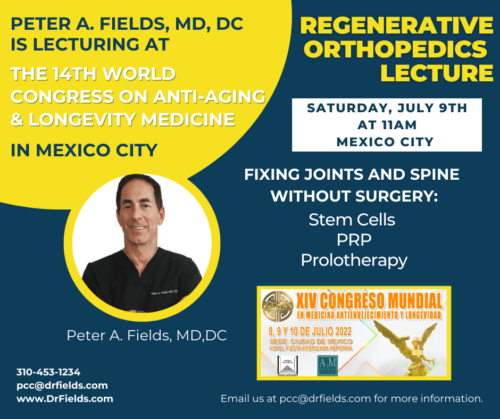 Peter A. Fields, MD, DC will lecture at the 14th World Congress on Anti-Aging and Longevity Medicine in Mexico City, Mexico on July 9th.
Lecture time: 11:00 AM
Email pcc@drfields.com for more information.
Regenerative Medicine Teaching in Mexico
We're excited to teach more professionals about this effective treatment to fix joints and the spine without surgery. Stem Cells, PRP, and Prolotherapy are all effective regenerative medicine treatments that help people with joint and spine pain to achieve both relief and repair.
To access the information for the conference you can click on the following link. www.medicina-antienvejecimiento.net/