Knee And Hip Replacements Increase Heart Attack Risk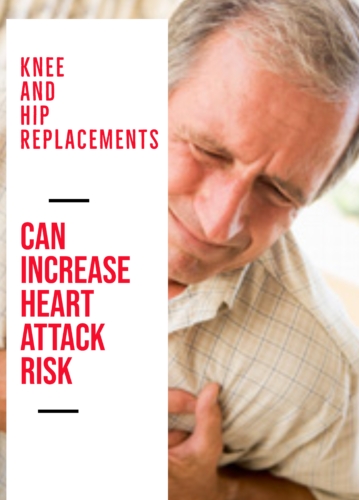 Over 27 million Americans suffer from osteoarthritis (OA),  a chronic degenerative disease of the joints. And when the pain gets unbearable, many people opt to have joint replacement surgery. Surgery is a common go-to, especially considering how often it is recommended.  But remember, all surgery has risks! And knee and hip replacements increase heart attack risk.
In this article, we'll take a look at a few studies and the conclusions the researchers came to. Interestingly, in one of the studies, the researchers were trying to prove that knee and hip replacement surgery decrease heart attack risk. However, the results showed that overall risks were substantially increased in both the total knee and total hip groups.
What Is the Reason for the Elevated Risk?
'The reason for the elevated risks is unclear at this point", said senior author Yuqing Zhang of Boston University School of Medicine. Regardless, he said, the findings suggest that the risk of a heart attack in the weeks after total joint replacement surgery "may have been previously underappreciated," and ways to prevent this serious complication may need to be considered.
Zhang and colleagues studied roughly 40,000 patients age 50 or older, all with osteoarthritis. They compared 13,849 patients who underwent total knee replacement to 13,849 closely matched people who did not have surgery. They also compared about 6,000 patients who had hip replacement surgery to 6,000 who did not.
Within a month after the operations, there were 35 heart attacks among knee replacement patients, compared to four in the control group. In that same period, there were 13 heart attacks in the hip replacement group vs three in the control group.
Schedule Your Appointment Today!
Heart attack risk was highest in that first month following surgery and declined again over time, the authors reported in Arthritis & Rheumatology. By three years after the operations, heart attack rates had evened out for the surgery groups and the control groups.
Blood Clot Risk with Joint Replacement
As for a type of blood clot known as venous thromboembolism, the knee replacement patients had 190 in the first month, compared to three in the control group. The hip surgery patients had 78; the control group had just one. So that is a significant rate of blood clots.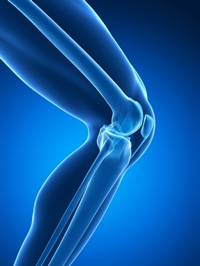 Five years later, the odds of having venous thromboembolism were still significantly higher in the surgery groups
Indeed, Zhang said, the health risks and benefits of joint replacement surgery remain complicated. And this study's findings cannot quantify them for an individual patient.
Increased Risk of Atrial Fibrillation (AF)
A 2021 study in the medical journal Gerontology showed an increased risk of atrial fibrillation, a common heart arrhythmia, after knee and hip replacement surgery. They studied 280 patients compared to a group of 280 control patients with no AF. New-onset AF was defined as AF demonstrated postoperatively in patients with no previous clinical history of atrial fibrillation. One-year mortality in elderly patients undergoing total knee or total hip replacement is significantly increased in the patients that develop new postoperative atrial fibrillation.2
Clinical consequences of AF include decreased cardiac output and risk of thromboembolism, and the presence of AF is associated with increased mortality. AF has also been associated with an increased 30-day mortality rate (6.4%) after noncardiac surgery.
SOURCE: http://bit.ly/1NIXl8o Arthritis & Rheumatology, online August 31, 2015.
2. Varon, Ben, et al. "New-Onset Perioperative Atrial Fibrillation Is Associated with Increased All-Cause Mortality in Elderly Patients Undergoing Total Knee   and Hip Replacements." Gerontology (2021): 1-6.