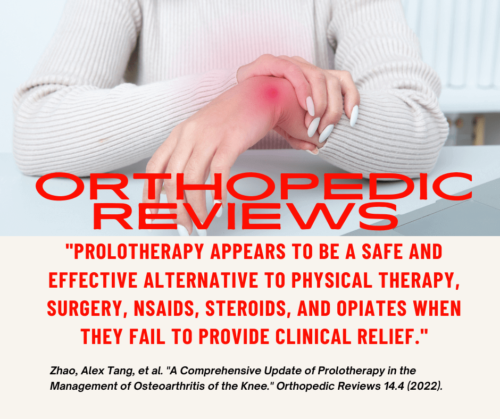 Regenerative Orthopedics: Alternative Treatments for Arthritis
Arthritis is one of the most common conditions plaguing people worldwide. The annoying arthritis symptoms, like joint pain and stiffness, are a result of the progressive loss of cartilage as the joint degenerates. These symptoms can put a real damper on people's lives, hindering the ability to move, slowing down progress, and making it difficult to accomplish desired activities. When common treatments fail, what are alternative treatments for arthritis?
Regenerative Orthopedics are effective arthritis treatments. At OrthoRegen,® we have seen arthritis sufferers finally get the relief they seek by choosing Prolotherapy, Platelet Rich Plasma, and the Gold Standard in Stem Cell Therapy.
Why Does Arthritis Even Start in the First Place?
There is a reason for the degeneration that is prevalent with arthritis. At some point, the structures of the joint become injured. This injury may have occurred as a traumatic event, such as a sports injury or fall.  Or, the injury transpired over time from wear and tear. Either way, the damage to the joint structures, like the ligaments and tendons, causes the joint to move abnormally. As the joint moves abnormally, friction and pressure are placed on the joint structures, which injures and wears them further.
Imagine a door with loose hinges. The door may now scrape on the floor, leaving grooves on it because the door moves abnormally. Whatever caused the loose hinge, either wear and tear or something/someone banged into it; the result is the same. The door is now unstable, leading to abnormal motion and new wear on the floor.
That same process happens to our joints when the stabilizing joint structures, the tendons, and ligaments, are injured. Ligaments become lax once they are injured, and the abnormal motion that takes place begins a cycle that ultimately results in degenerative changes and osteoarthritis.
Can Joint Motion Be Restored?
Regenerative Orthopedic therapies, such as Prolotherapy, PRP, and Stem Cells, can restore normal joint motion. The great thing about these treatments is that they are regenerative and restorative. Many other treatments, such as pain medications, only chase arthritic symptoms. They do not repair the underlying problem. These regenerative therapies do! Regenerative Orthopedics repairs the underlying ligament and tendon injury, restore the abnormal joint motion, and stop the degenerative cycle.
What Does the Research Say about Regenerative Orthopedics as An Alternative Arthritis Treatment?
Studies show that Regenerative Orthopedics are beneficial alternative arthritis treatments that can bring significant pain relief and healing in degenerated joints.
Here's what some of the studies say:
Researchers analyzed 1093 patients for the efficacy and safety of intra-articular injections of platelet-rich plasma (PRP) and mesenchymal stem cells (MSCs) in treating knee arthritis. They noted "beneficial clinical outcomes by means of lowered pain perception and increased physical functionality; therefore, the quality of life in KOA (knee osteoarthritis) patients had been significantly improved."1
PRP and Stem Cells as an Alternative Arthritis Treatment
This study, documented in the journal, Cureus, looked at 30 published medical articles and found that PRP and stem cell injections are effective at repairing tissue, providing pain relief, and restoring function in patients with mild to moderate knee arthritis. Stem Cell injections are more effective at repair in more severely degenerated knees. Both treatments are well tolerated without serious adverse effects observed. Additionally, this study concluded that regenerative medicine injections show superior results compared to hyaluronic acid injections. (1)
Prolotherapy as an Alternative Arthritis Treatment
Prolotherapy is a successful treatment option for various musculoskeletal conditions. Physicians commonly choose intra-articular injections, such as cortisone injections, once over-the-counter medications, topicals, and other treatments fail. However, cortisone treatments increase cartilage loss and make the arthritic joint worse. (2)
Is Prolotherapy an Effective Alternative?
Researchers in the medical journal Orthopedic Reviews say, "Numerous clinical trials show significant improvement of osteoarthritic knee pain without any significant side effects reported following the use of prolotherapy. The results consistently show significant improvement in radiographic outcomes, pain scores, and quality of life with prolotherapy treatment. Prolotherapy appears to be a safe and effective alternative to physical therapy, surgery, NSAIDs, steroids, and opiates when they fail to provide clinical relief."(3)
A 2023 Indonesian study concluded, "Prolotherapy effectively improves functional outcomes in all stages of knee osteoarthritis."(4)
All of the above studies reviewed the effects of Regenerative Orthopedic treatments on knees. What about other joints? Hauser et al. reviewed 32 research studies to determine the efficacy of dextrose prolotherapy in chronic musculoskeletal pain. In other words, this team reviewed the effects of regenerative treatment on multiple joint conditions.
What were the results?
The Hauser et al. study demonstrated the effectiveness of Prolotherapy on multiple joints and various types of joint conditions and found, "Overall, dextrose prolotherapy has been demonstrated to be efficacious and should be considered as a treatment for pain and dysfunction associated with chronic musculoskeletal conditions, particularly tendinopathies, and osteoarthritis."(5)
Regenerative Orthopedics at OrthoRegen®
At OrthoRegen,® we have been a leader in regenerative treatments, helping arthritis sufferers get pain relief and restore joint function. We have many years of experience in providing regenerative treatments as alternative treatments for arthritis including Prolotherapy, Platelet Rich Plasma, and the Gold Standard in Stem Cell Therapy.  These treatments have helped thousands of patients restore their joint integrity. If arthritis is affecting your knees, back, shoulders, hips, or other joints, please give us a call and make an appointment soon, so you can get back to the activities you love.
Ip, Hoi Leng, et al. "Regenerative medicine for knee osteoarthritis–the efficacy and safety of intra-articular platelet-rich plasma and mesenchymal Stem cells injections: a literature review." Cureus9 (2020).
Zeng C, Lane NE, Hunter DJ, et al. Intra-articular corticosteroids and the risk of knee osteoarthritis progression: results from the Osteoarthritis Initiative. Osteoarthr Cartil. 2019;27(6):855-862.
Zhao, Alex Tang, et al. "A Comprehensive Update of Prolotherapy in the Management of Osteoarthritis of the Knee." Orthopedic Reviews4 (2022).
Waluyo, Y., Artika, S. R. ., Wahyuni, I. N. ., Adnan, E. ., Budu, & Bukhari, A. . (2023). Functional outcome in knee osteoarthritis after dextrose prolotherapy intervention: A severity-based pilot study. JKKI : Jurnal Kedokteran Dan Kesehatan Indonesia, 14(1), 47–54. https://doi.org/10.20885/JKKI.Vol14.Iss1.art8
Hauser, Ross A., et al. "A systematic review of dextrose prolotherapy for chronic musculoskeletal pain." Clinical medicine insights: arthritis and musculoskeletal disorders 9 (2016): CMAMD-S39160.