Non-Surgical Knee Treatments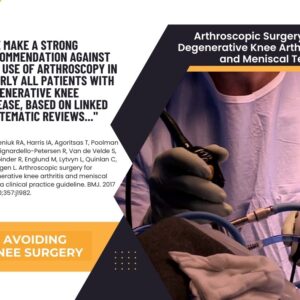 Trying to avoid knee surgery in middle age? At OrthoRegen®, we see a lot of patients who enjoy being active and who want to remain that way. They certainly do not want knee pain to get in the way of that! They also prefer to go the non-surgical route to avoid a long surgical recovery and the risks that come with surgery.
Middle-aged patients are at that age when they begin to notice degenerative changes in their knees. And they often deal with those changes, like knee instability or pain, by using knee braces, taking over-the-counter medications, and applying ice or heat packs to get some relief.
Trying to Avoid Knee Surgery But Over-the-Counter Remedies Don't Work?
They try to live with the discomfort as long as possible, but when those remedies no longer work, they seek a medical opinion. Oftentimes, surgery is recommended. But is surgery a good option?
Studies show that arthroscopic surgery results in little to no improvement. Here's what a few say:
A 2022 study from Melbourne, Australia, reports, "High-certainty evidence indicates arthroscopic surgery leads to little or no difference in pain or function at three months after surgery, moderate-certainty evidence indicates it is probably little or no improvement in knee-specific quality of life three months after surgery, and low-certainty evidence indicates arthroscopic surgery may lead to little or no difference in participant-reported success at up to five years, compared with placebo surgery." (1)
Another medical report from the Annals of the Rheumatic Diseases says, "Several recent meta-analyses based on randomized controlled trials have failed to show a treatment benefit of Arthroscopic partial meniscectomy over conservative treatment or placebo surgery for these patients." (2)
Arthritis Sufferers Can Avoid Knee Surgery too!
Does arthroscopic surgery help in cases of arthritis? Another medical journal said this, "In this controlled trial involving patients with osteoarthritis of the knee, the outcomes after arthroscopic lavage or arthroscopic debridement were no better than those after a placebo procedure."(3)
And then, researchers in the medical journal Arthroscopic Surgery for Degenerative Knee Arthritis and Meniscal Tears say, "We make a strong recommendation against the use of arthroscopy in nearly all patients with degenerative knee disease, based on linked systematic reviews; further research is unlikely to alter this recommendation." (4)
Wow! This surgery is not recommended. Yet unfortunately, arthroscopic knee surgery is on the rise to treat middle-aged and older patients with persistent knee pain. The majority of studies show no added benefit for this surgery when compared to the control treatment of placebo and less benefit when compared to exercise. These results are important to know for the individual considering a surgical procedure that comes with risk.
Regenerative Orthopedics Helps To Avoid Knee Surgery in Middle Age
At OrthoRegen®, we utilize regenerative treatments to repair injured and degenerated knees. These treatments include stem cells, PRP, and Prolotherapy. Certain knee conditions will respond well to simple dextrose Prolotherapy. Other conditions respond great with PRP. And then other conditions, usually those with more degeneration, will require stem cell treatment. All treatments are done in conjunction with dextrose Prolotherapy to comprehensively treat the entire knee joint.
These non-surgical regenerative treatments stimulate natural healing repair in the knee and rebuild the injured tissue. (5)
Injuries such as meniscus tears may respond with Prolotherapy alone or may also require PRP if the injury requires more repair due to advanced meniscus damage. Our clinicians will recommend the best regenerative therapy for your particular case in order to strengthen, stabilize and repair your knee.
Regenerative Orthopedics, such as Platelet Rich Plasma Therapy, Stem Cells, and Prolotherapy, work great to stimulate tendon, ligament, and cartilage repair. These treatments are non-surgical, in-office procedures that are so much less invasive than surgery and, therefore, require minimal downtown. These treatments are a much safer and more conservative treatment with many advantages over arthroscopic surgery.
References
(1) O'Connor D, Johnston RV, Brignardello-Petersen R, Poolman RW, Cyril S, Vandvik PO, Buchbinder R. Arthroscopic surgery for degenerative knee disease (osteoarthritis including degenerative meniscal tears). Cochrane Database of Systematic Reviews. 2022(3).
(2) Sihvonen R, Paavola M, Malmivaara A, Itälä A, Joukainen A, Nurmi H, Kalske J, Ikonen A, Järvelä T, Järvinen TA, Kanto K. Arthroscopic partial meniscectomy versus placebo surgery for a degenerative meniscus tear: a 2-year follow-up of the randomised controlled trial. Annals of the Rheumatic Diseases. 2017 May 18:annrheumdis-2017.
(3) Moseley JB, O'malley K, Petersen NJ, Menke TJ, Brody BA, Kuykendall DH, Hollingsworth JC, Ashton CM, Wray NP. A controlled trial of arthroscopic surgery for osteoarthritis of the knee. New England Journal of Medicine. 2002 Jul 11;347(2):81-8.
(4) Siemieniuk RA, Harris IA, Agoritsas T, Poolman RW, Brignardello-Petersen R, Van de Velde S, Buchbinder R, Englund M, Lytvyn L, Quinlan C, Helsingen L. Arthroscopic surgery for degenerative knee arthritis and meniscal tears: a clinical practice guideline. BMJ. 2017 May 10;357:j1982.
(5) Hauser RA, Orlofsky A. Regenerative injection therapy with whole bone marrow aspirate for degenerative joint disease: a case series. Clinical Medicine Insights: Arthritis and Musculoskeletal Disorders. 2013 Jan;6:CMAMD-S10951