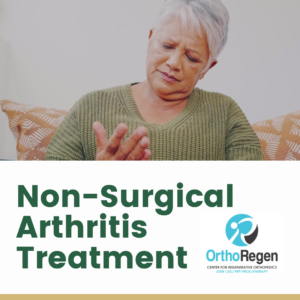 Stem Cell Injections in the Los Angeles Area
Our goal at OrthoRegen®, where we provide stem cell injections in the Los Angeles, CA area, is to stimulate the repair of injured joints. If you have been diagnosed with a joint injury or with degeneration of the joint or spine, there is a good chance we can help you. Regenerative therapies at OrthoRegen® are effective, non-surgical treatments.
Stem Cell Therapy utilizes a person's own healing cells. These cells are given directly to the area that is in need of them. They are not shipped anywhere for processing or obtained from somewhere else. We use your own cells.
The Stem Cell Therapy done at OrthoRegen® has nothing to do with embryonic stem cell therapy. We only use the patient's own adult stem cells. There is no cross-contamination this way!
Gold Standard Stem Cell Injections in Los Angeles, CA
Plus, at OrthoRegen®, we use the Gold Standard for stem cell regeneration. What does that mean? The Gold Standard means we don't use just one type of regenerative therapy but four different kinds of Regenerative Orthopedics. And why is that important? Using four different types of regenerative therapies helps you to avoid invasive surgery.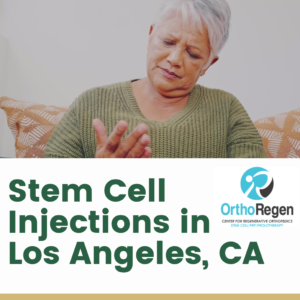 Many other clinics only use one or two of these procedures. But not all four. We use bone marrow stem cells, and adipose (fat) stem cells. We also use PRP Prolotherapy to accelerate healing. In addition, we use Dextrose Prolotherapy on the outside of the joint to help stabilize the ligaments and tendons that hold the joint in place. This last step is critical for the success of the procedure. And without it, failure rates are high.
Not all injuries or degenerative cases require stem cell treatment. It may be that you will only require traditional Prolotherapy to accomplish the repair. However, in more advanced cases, Stem Cell Treatment may be necessary. Your physician will let you know which treatment is best for you after examining you and reviewing your history.
Stem Cell Injections in Los Angeles, CA for Arthritis
Stem Cell Therapy is typically chosen to repair articular cartilage, but it will also repair ligaments and tendons. In conditions such as arthritis, the problem is typically progressive and degenerative, with a limited ability of the joint to heal itself. And with arthritis, the joint is in a state where it is breaking down. What we want to do with Stem Cell Therapy is to get the joint in a state of building up. When we use this treatment, we stimulate the body to repair the area to get it stronger.
Conditions That Can Be Treated with Stem Cell Therapy
Most clinics, including OrthoRegen®, use Stem Cell Therapy for cases of significant joint injury or severe degenerative arthritis in joints or even the spine. Those involved in treating people with articular cartilage degeneration or joint injury know that the vast majority of them improve when treated with Stem Cell Therapy.
We have found that Comprehensive Regenerative Orthopedics, using the combination of Stem Cells, PRP, and Prolotherapy, works amazingly at accomplishing the results of repair and return to function in the patients we have treated, allowing them to return to the activities they enjoy in life.
Call us to find out if you are a candidate for non-surgical Regenerative Orthopedics at 310-463-1234.